1851 Colt Navy & 1861 Colt Navy reproduction revolver Kirst Konverters

Kirst Konverter® offers a cartridge conversion cylinder for both the 1851 and the 1861 Colt Navy revolvers manufactured by Uberti or Pietta which is available in .38 Long Colt caliber, as a six shot cylinder.
The .36 caliber percussion revolver barrel has a bore diameter of .375 inches, and more important is the fact that today's .38 caliber cartridges are loaded with .357-inch diameter bullets. Therefore, to attain accuracy with a modern .38 caliber cartridge, in your reproduction .36 caliber percussion revolver, you must shoot soft lead .38 Special, hollow base wad cutters, .38 Colt hollow base or .38 Colt healed ammunition. The soft lead hollow base bullet will "bump up" to the .375-inch bore diameter and shoot very accurately.
The chambers will actually accept .38 Special hollow base wad cutter cartridges; however the cylinder is too short and is not intended for use of the standard .38 Special cartridge. The cylinder has been made this way so that the shooter can use commercially loaded hollow base, soft lead bullet ammunition, it is not intended for the standard .38 Special cartridge.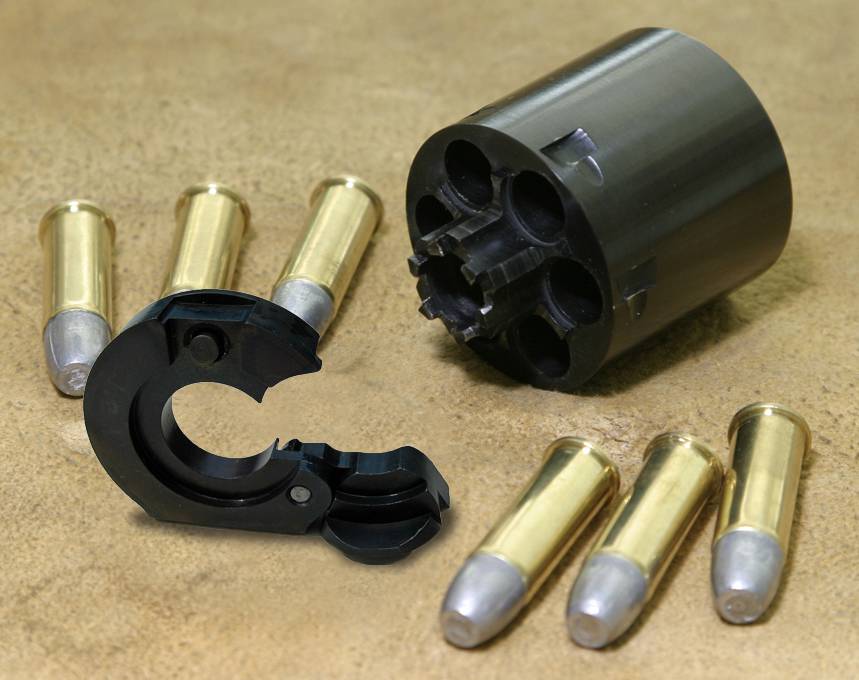 1851 Colt Navy, (.44 caliber) Sheriff and Civilian model reproductions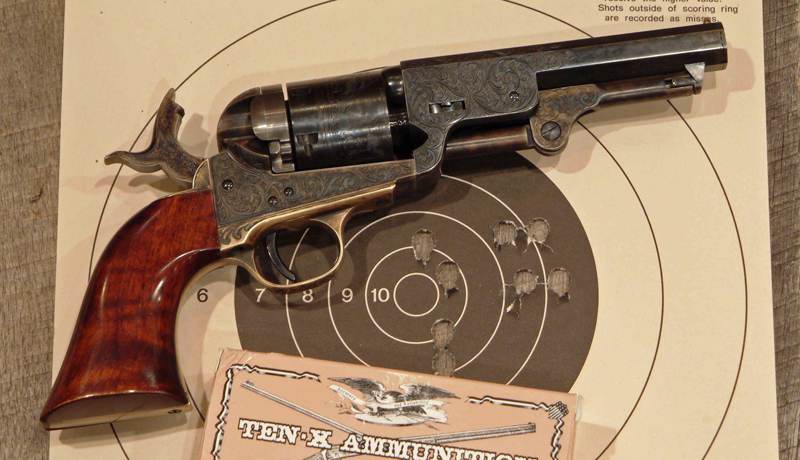 Specific reproductions of the 1851 Colt Navy that are manufactured as a .44 caliber percussion revolver will accept the .45 Schofield/.45 Long Colt caliber, five shot Kirst Konverter®. The current Pietta reproduction 1851 Navy "Sheriff" and "Civilian" revolvers in .44 caliber accepts the same Kirst Konverter as the Pietta made 1860 Army revolver.
Since the .44 caliber Cap & Ball barrel has the same bore dimensions as a present day .45 centerfire caliber, the Kirst Konverter® will simply 1851 Colt Navy .44 caliber Kirst Konverterconvert these guns to a five shot .45 Schofield cartridge/.45 Long Colt. It will also accommodate the .45 Long Colt cartridges if the bullet is seated slightly deeper. (The SAAMI specification for overall length, for the .45 Long Colt, is 1.600 inch. The longest overall length that 1851 Pietta cylinder in .45 caliber will accept is 1.58 inch)
Caution: Ammunition must be loaded with lead bullets and a low-pressure, powder charge not to exceed 1000 feet per second velocity. Do not use the Kirst Konverter® in revolvers with a brass frame (except for .22 caliber rimfire Konverters.) Be careful to never install a .44 or .45 caliber Kirst Konverter® in a revolver with a .36 caliber barrel.
Simple, step-by-step instructions and a loading port template are included with each Kirst Cartridge Konverter® for the 1851 & 1861 Colt Navy revolvers.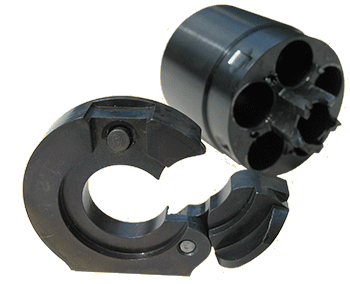 1851 Colt Navy ejector assembly

1861 Colt Navy ejector assembly