Model 1860 Colt Revolver and the original Kirst .22 Conversion Kit.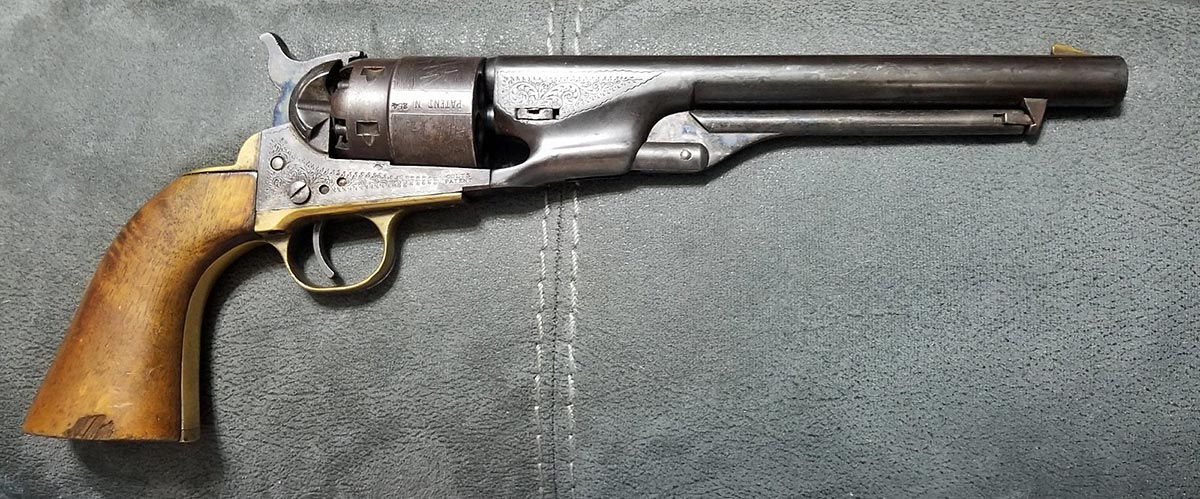 Model 1860 Colt Percussion Revolver, Spanish manufacture; date unknown. No original finish remains, but it has a genuine antiqued patina. There is a large chip out of right grip panel. This is an older revolver with a good bore that has seen lots of use, but it has been well maintained. The piece has factory roll engraving on the barrel, frame and grip strap, as well as some hand engraving on the recoil shields.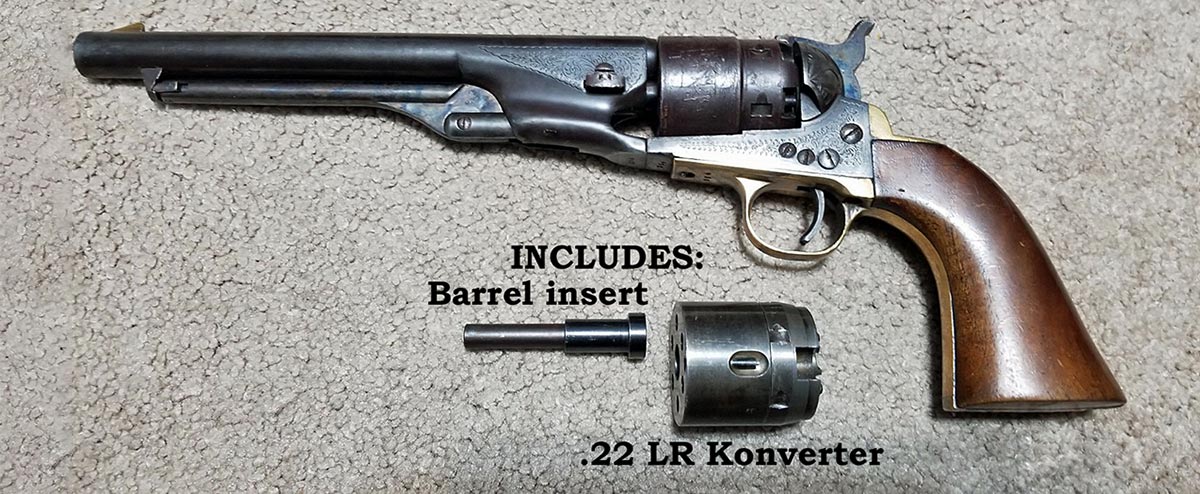 First Proto-Type - .22 LR Kirst Konverter. This is the original, prototype .22 LR Konverter that was created to develop the Kirst .22 LR Konverter line; it's the first one ever made. It's a one of a kind and it only fits the Spanish 1860 Colt listed above. For this reason, we are only selling this prototype .22 LR Konverter with the revolver that it was developed on.
Click photos to enlarge.
This is a "Cap & Ball" percussion revolver; therefore it is not a firearm, so no FFL is required. Likewise, the Konverter is not a firearm, both can easily be shipped to you; however, they must be shipped in separate containers.
This revolver is from Walt Kirst's private collection and the buyer will receive a personalized letter from Walt Kirst detailing the history of this revolver, including the sale to the buyer to document the provenance of this unique revolver.
Combined price for the gun and Konverter $495 plus shipping
To purchase call Walt Kirst at 763-300-1981 between Noon and 6 PM Central time; Monday Through Friday.